Travelocity Canada
Travelocity UK

I'm a picture buff. I love to take them as well as look at them. My favorites are scenery. Mountains, skies and ocean waves are very soothing to look at. I'll post some that I've taken over the years. I'd love to see some you've taken also. And if you'd like them posted here, with a link to your site, please send them to me. I'd love to post them here for everyone to enjoy!

Me and two of my five little darlings. Although they aren't so little anymore, and they certainly can be devils! And then there's the rest of the crew....
This one was taken in a "rare" moment when i could get everyone together

Ok.. here are some starters.. a few pictures I took last winter during the stormy season, And a recent fire up in the Mountains.
Thanks to Vickie for providing the great shots of her native land. Keep 'em coming.
Vickie puts in a lot of time and effort into her pages, with a lot of great information.
Check it out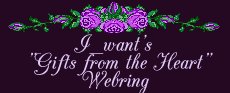 I'll add more soon, and please.. if you have great picture, send it. And I'll Post it here.
All pictures on this and all adjoining pages are ©copyrighted. Do not use these pictures for any purpose, without written permission of the owner.
Page1 Webrings Join My WebRing GuestBook ICQ ICQ Tutorial